Advanced Pitching & Arm Care
ADVANCED PITCHING/ARM CARE: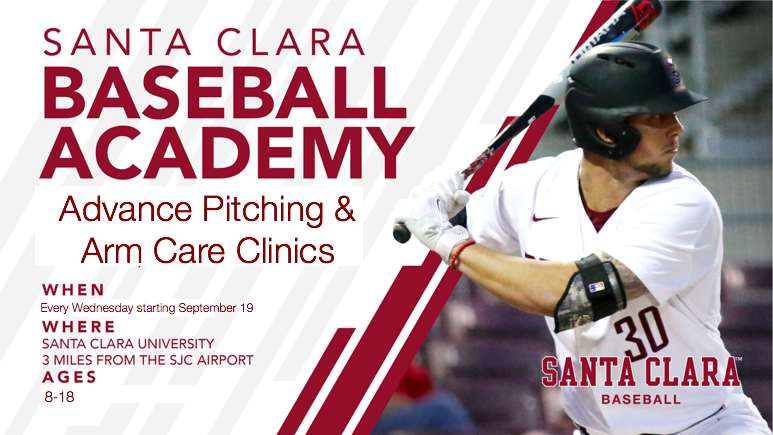 Dates: TBA

Santa Clara Baseball Academy presents our advanced pitching development camp during the Fall of 2018. This camp aims at personal development for each participating pitcher. Our focus will be to give pitchers a complete experience and training of a high-level college and professional pitcher. Campers will work with Santa Clara Broncos assistant baseball coach Greg Gonzalez under the oversight of Head Coach Rusty Filter and Bronco Assistant Director of Sports Medicine, Stan Conte, in the following areas:
Pre/Post throwing training routines
Mobility training
Velocity enhancement training
Plyoball introduction
Pitching recovery training
Arm Care program developed by Stan Conte (25-year MLB Athletic Trainer)
Rhapsodo Baseball technology pitching evaluation
(measuring spin rate, spin efficacy, velocity, horizontal/ vertical break)
The advanced Pitchers development camp is a one stop shop for everything a pitcher needs to do

Contact Information
Questions regarding Santa Clara Baseball Summer Camps, contact Greg Gonzalez at ggonzalez2@scu.edu
Please check your email regularly as this is our primary way we communicate. Any additional information that we need to convey as the camp draws closer will be passed on to you via the e-mail address that you supplied when you signed up for camp. Please make it a habit to check your e-mail daily, this will eliminate any confusion and or miscommunication.