Summer Youth Camps
THANK YOU TO ALL FOR A GREAT 2023 SUMMER!
WE WILL SEE YOU NEXT YEAR!


SANTA CLARA BASEBALL ACADEMY
YOUTH SUMMER CAMPS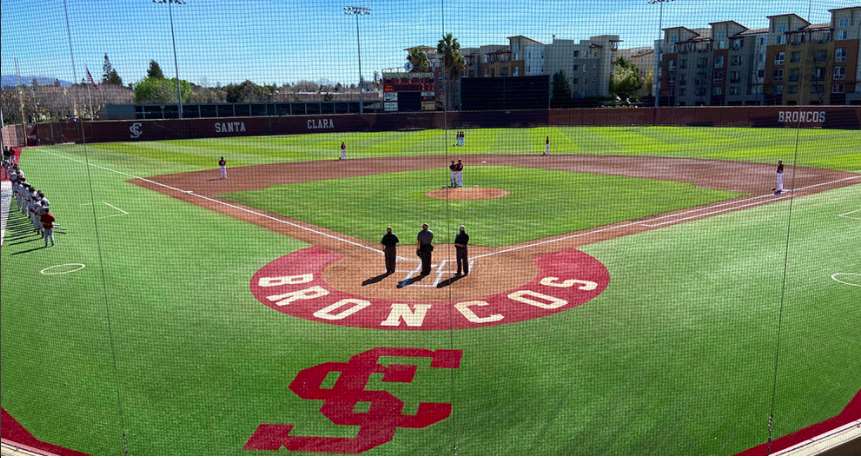 Stephen Schott Stadium
443 El Camino Real
Santa Clara, CA 95053
Ages: 8-13
_____________________________________________________________________
Camp Description
Santa Clara Baseball Academy Camps teach the basic fundamentals of the game each day. Games are played the second half of each day emphasizing the skills taught earlier in camp. Campers are broken up into a team for the week based on AGE (not ability level), each week campers will be offered a different experience through new games and various fun activities. Our camp staff, made up of current Bronco players and coaches, provide campers close instruction through our small camper to counselor ratio (8:1) which allows our campers to learn the game of baseball under the close supervision of our staff.

Camp begins daily at 9:00 AM and ends at 3:00 PM.

Santa Clara Baseball Academy Camps are held at Stephen Schott Stadium. Spots will be limited per camp and sessions will sell out.
Dates:
2024 DATES TBD

Ages:
All Players of Any Skill Levels, Aged 8-13

Time:
9:00-3:00 PM

Cost:
Total Cost/Week: $450
**Bronco Packages: Discounted Prices are available when registering for multiple weeks at a time.

**One-on-One lessons with Bronco Staff**
(Extremely Limited availability; immediately following camp)
**For special pricing, please contact Ryan Ozella at rozella@scu.edu**
Players Receive
- Access to the entire Santa Clara baseball facility: Playing field, bullpens, locker rooms, 4 covered cages
- Santa Clara Baseball Camp shirt
- Daily instruction on hitting, pitching, catching, infield/outfield defense, base running and more
- Opportunity to work with current college players and college coaching staff

Estimated Daily Schedule
9:00: Registration/ Check In
9:10: Morning Meeting
9:15: Stretch & Throw
10:00: Individual skill work & group stations
12:00: Lunch
12:30: Game Stations
2:30: Camp closing activities
3:00: Camper Pick up

Camper to Staff Ratio

We make every effort to have an excellent counselor to camper ratio of 8:1. This ensures quality instruction and individual attention. Santa Clara Baseball Academy Camps have limited spots. Coaches include the SCU coaching staff as well as current Bronco players.
Medical Staff

As required, we have a certified trainer at our camp to attend to the medical needs of the campers.
Equipment

Each camper must bring his/her own baseball equipment. Players should bring a glove, cleats/spikes, running shoes or turf shoes, hat, and any other equipment they feel necessary to compete. There will be a very limited supplies of bats and gloves that can be provided upon request. Santa Clara Baseball Academy requests each camper place his name and phone number on all equipment and items including shoes and clothing. Santa Clara Baseball Academy is not responsible for any lost or stolen equipment.
Waiver Information
Please read and fill out the waiver provided when signing up online.
Without the waiver information filled out and signed, camper cannot participate.
Parking Information
Camp attendees may park on the street in accordance with local parking enforcement. Any and all parking lots near the stadium are subject to ticketing by local and campus parking enforcement.
Insurance
In the event of injury or illness while at camp, your child will be taken to the local medical facility. Insurance information provided on the medical form when registering MUST be accurate. All campers must have their own medical insurance. Santa Clara Baseball Academy provides excess coverage after your insurance policy has been utilized. Campers will not be allowed to play unless the information is submitted, and the form is signed by the parent or guardian of the camper.
Disclaimer
Santa Clara Baseball Academy Camps are privately owned and operated and not affiliated with Santa Clara University. All of Santa Clara Baseball Academy baseball camps are committed to following and abiding by all NCAA rules, policies and regulations. All Santa Clara Baseball Academy Camps or clinics are open to any and all entrants (limited only by number, age, grade level and/or gender)
Miscellaneous Information
Refund Policy / Cancellation Protection:

Refunds are no problem. Kids get sick, vacations come up, and unfortunately, you may need to cancel. Please contact Ryan Ozella to request a cancellation. Refunds are available until 5pm the Friday before camp. There is a $75 cancellation fee. Registration fees from Active (our online registration company) will not be refunded.
Contact Information
Questions regarding Santa Clara Baseball Camps, contact Ryan Ozella at: rozella@scu.edu
Please check your email regularly as this is our primary way we communicate. Any additional information that we need to convey as the camp draws closer will be passed on to you via the e-mail address that you supplied when you signed up for camp. Please make it a habit to check your e-mail daily, this will eliminate any confusion and or miscommunication.